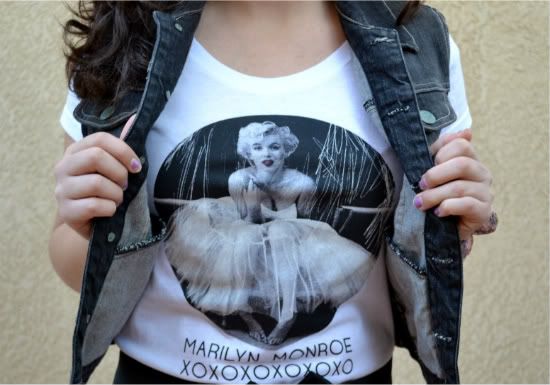 Marilyn Monroe T-Shirt- Walmart, Vest- DIY, Skirt- Marshall's, Shoes- Marshall's
I admire Marilyn Monroe a lot because she was just a very interesting person. She was happy, sad, confident, insecure, and very beautiful. She was adored by so many people and still is. Even though she passed away a long time ago, it still seems like she's alive because she's everywhere you go. I have two of my favorite quotes from her on the left side of my blog. The reason why i love these quotes is because i feel like i can relate to them a lot. And i'm sure many other girls do too. I also like the fact that she wasn't super skinny, she had a very feminine figure with her curves and it's a great example to so many girls out there. You don't have to be skinny to be beautiful, you also don't have to be curvy to be beautiful. Every body shape is beautiful as long as you love it and embrace it.
On another note, tomorrow i'm going on a school field trip to the Getty Paul museum in LA, I'm so excited and i'm probably going to be taking a bunch of pictures so if you would like, i would love to share them with you all! i hope you had a great day/night!